Poly-Mart is a Manufacturer of polyethylene (poly) tanks for Rainwater Harvesting, Water Storage, Chemical Storage and Emergency Long Term Water Storage. Poly-Mart's manufacturing team has been in the rotational molding business for a combined 40 years. Therefore, you can feel comfortable you are getting a very high quality product from a team of professionals, backed by an industry leading 5-year warranty!
Poly-Mart Water Storage Tanks have built in UV inhibitors in the resin to avoid color fading and break down from harsh sunlight. Their Black, Dark Green, Dark Brown & Dark Grey colors limit the most light from entering the tank, which in turn reduces growth of waterborne algae. Their line of Water Storage Tanks comes standard with a screw on vented lid, inlet bulkhead and outlet bulkhead w/ plug. Water Storage Tanks are available in the following gallon sizes: 2500, 1500, 1000, 500, 250, 200, 150, 125, 100.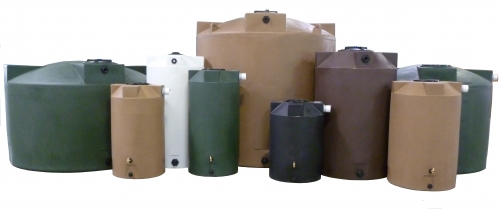 Wylie Vertical Tanks are built with quality and durability in mind. The finest FDA approved resins molded into a 1.5 specific gravity (SG) tank, result in a tank that will perform year after year. Note: Wylie vertical tanks are not recommended for underground installation. Soil pressure from the sides and/or top can collapse the tank when it is less than full. Any underground installation requires a reinforced wall to prevent outside pressure on the tank. Some sizes of Wylie Vertical Tanks are available in 1.9 SG to hold heavy fertilizer (blue color). Capacities range from 200 gallons to 3,000 gallons.The vertical tanks are available in natural white, Wylie buff or "Algae Resistant" black.Standard features include a vented lid and a 2" bulkhead fitting with a siphon tube.
Wylie has many styles of poly tanks for sale. The Wylie Polyethylene Vertical Storage Tanks are used in agriculture and industry for many non-petroleum applications.